In today's hypercompetitive market where every click counts, AI tools for e-commerce are essential for intelligent solutions that understand customers' preferences, predict their desires, tailor personalized experiences, and guide them seamlessly toward making a purchase. The current juncture presents an opportune moment to acquire proficiency in the utilization of AI tools and thereby gain a competitive edge. The market offers a plethora of options, delve into a discussion regarding the two most exemplary AI tools for e-commerce to effectively optimize your operational processes.
A. Shopify Sidekick: The GenAI Feature for Merchants
Shopify Sidekick AI is a powerful tool designed to help small business owners grow their online stores by providing them with key insights and automating time-consuming tasks. By efficiently managing your inventory, creating an attractive homepage, getting insights into your store's performance, providing 24/7 interactions, and getting personalized answers to your questions, Shopify Sidekick can help you elevate your business to the next level.
Manage your inventory
Sidekick is designed to help you keep track of your inventory levels with precision. For instance, you can ask Sidekick to provide information on the stock levels of specific products, receive alerts when certain items are running low, or even simplify the process of reordering products from suppliers by providing clear next steps and to-dos. Sidekick can also assist in managing inventory across multiple sales channels, ensuring that your stock levels are consistent and up-to-date.
As an example, Shopify Sidekick can be used by T-shirt store owners to track inventory levels for each color separately, helping them avoid stockouts of a particular color. This will eventually support you to avoid stockouts of a particular color, even if the other ones are still in stock.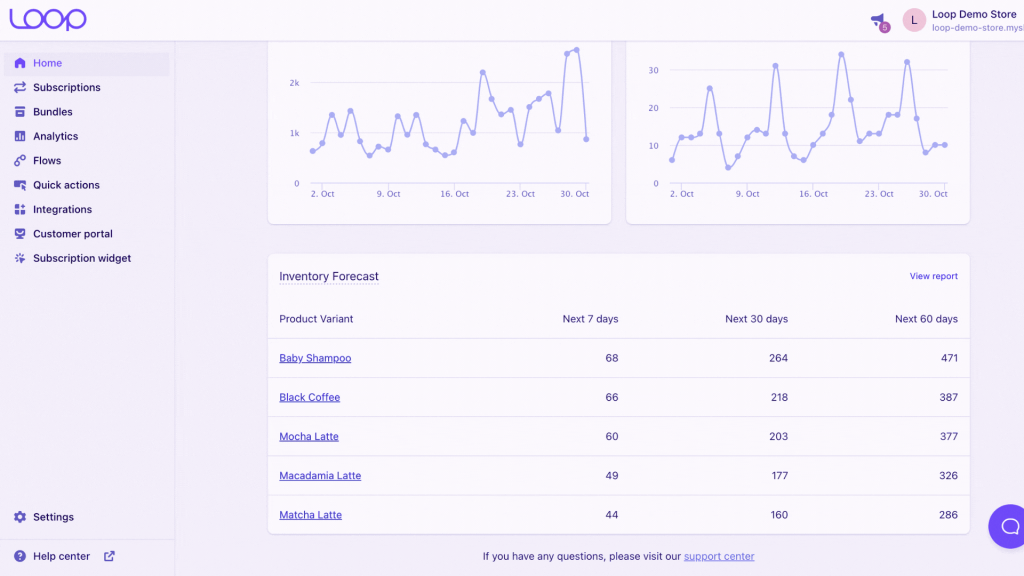 Manage your inventory by Shopify Sidekick /Source: Loop
Create an attractive homepage
Shopify Sidekick enhances your store at different levels based on the complexity of the tasks it performs and the impact it has on the store's overall performance, as illustrated by the following three:
Level 1: Shopify Sidekick can rewrite your existing copies with a fresh approach for a festival season. This feature is to create quality content to generate more leads.
Level 2: Shopify Sidekick can make any edits you want to your home page, including removing or adding collections. This can be done quickly and easily, without having to manually code the changes.
Level 3: Sidekick is able to create discount tags and apply them to products as you wish, and also offers you suggestions before making the sale live.
An excellent example of leveraging AI to generate content for a discount tag on its festival collection is that Sidekick can offer suggestions for discount tags, such as "10% off all products" or "Free shipping on festival orders over $50."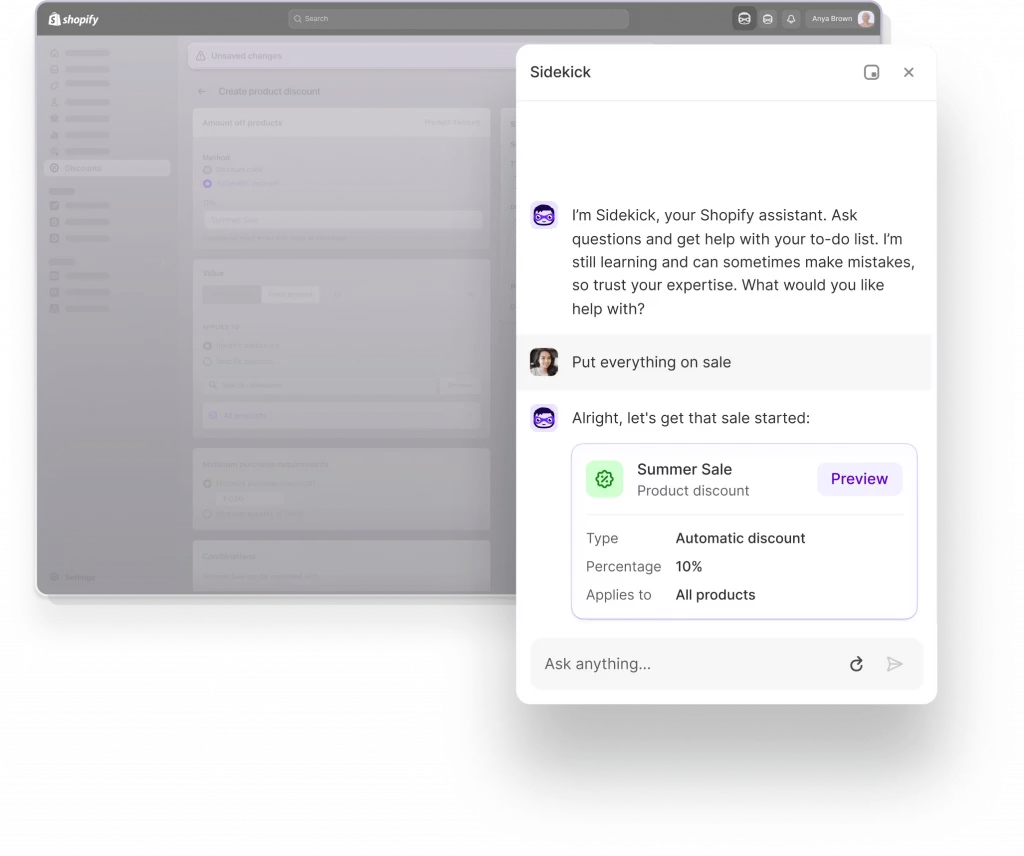 Automated discount by Shopify/ Source: Shopify
Get Detailed Insights and Personalized Answers of Your Store's Performance
This Shopify Sidekick AI provides you with data such as average order value, online store conversion rate, online store sessions by device type, online store sessions by location, sales by POS location, and website traffic data to make more informed decisions than just shooting in the dark. Based on your store's performance, it can provide you with reports to measure your efforts and closely understand what's working for you. This normally takes away a lot of your time in creating the report but saves half-time with Sidekick AI.
Impressively, based on gross sales, return rates, sales by channel, sales attributed to marketing, and total sales Shopify Sidekicktrack, asks any question and it will respond to you with personalized answers to your store. The answer is not general, but it is as per what you have asked and the current performance of your store.
If you are unsure about the most popular T-shirt sizes and colors on your website, just ask Shopify Sidekick and get the answer according to your sales data. For instance, your best-selling T-shirt sizes are medium (80%) and large (20%), and your customers' favorite colors are black (40%), white (40%), and navy blue (20%). Sidekick also checks the most market on your product like 80 % from Asian customers and 20% on others. Thanks to this figure, Shopify Sidekick will update the product listings for the T-shirts to prominently display medium sizes with black or white colors. Sidekick specifically focuses their marketing efforts on Asian markets by creating targeted ads, translating the website into Asian languages, and providing customer support in Asian languages.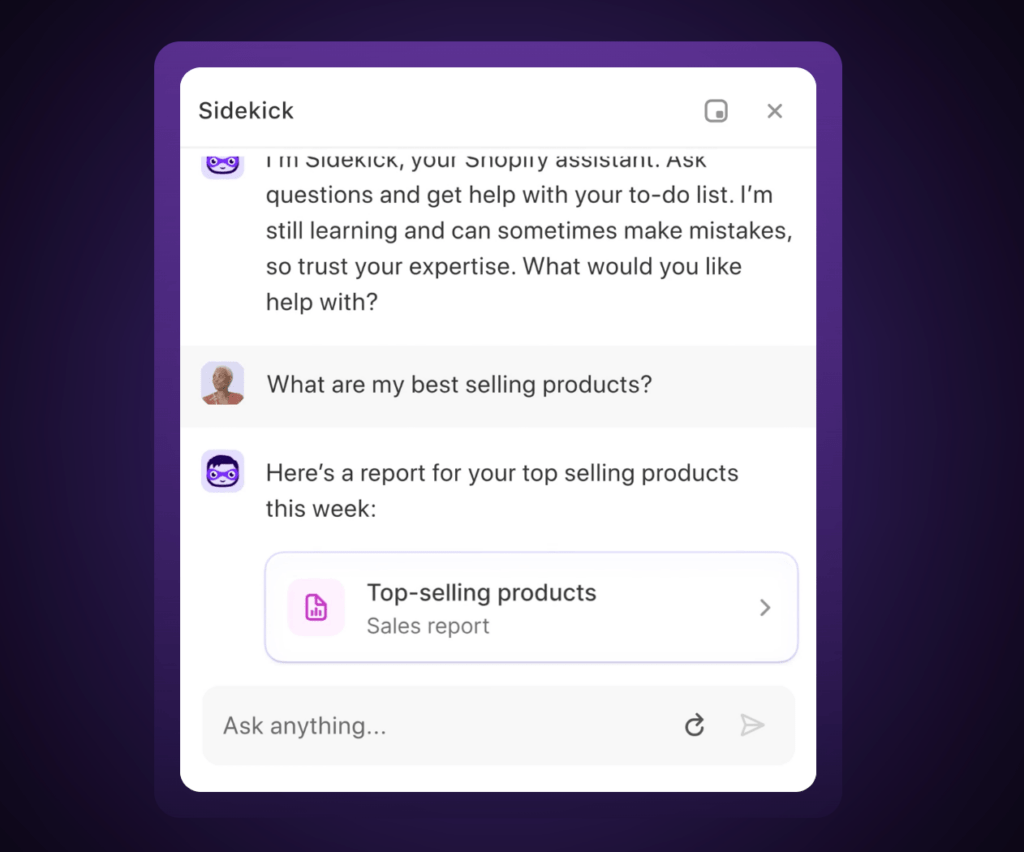 Get the personalized answer on Sidekick AI / Source: Meentashi
Provide 24/7 interaction
Shopify utilizes a combination of strategies to provide 24/7 customer support, ensuring that merchants can access assistance whenever they need it. Here's a breakdown of their approach: live chat, email support, help center, global support team.
B. ChatGPT AI Content Generator for Magento 2
AI Content Generator is a lightweight AI extension for e-commerce that enables store owners to easily generate and import essential web store content. The module offers multiple approaches to creating engaging text, including custom requests and AI-generated text based on specified criteria.
With its advanced capabilities, you can effortlessly generate compelling and unique content for various purposes, ranging from product pages to blog posts. Let's explore some of the remarkable things this powerful extension can do.
Generate content for product pages
Magento AI extension enables you to automatically generate content like short and long descriptions for the product pages of your store. The content can be produced based on product attributes or custom attributes, and also based on custom prompts. Descriptions are created not only while editing existing products, but also while adding new products on product creation pages. It is also possible to auto-create product descriptions via Page Builder, by editing HTML and Text elements.
Magento ChatGPT extension also offers a powerful feature designed to create custom texts based on specific attributes as well as custom requests or prompts. Type in a specific topic or idea and the AI will create relevant content based on that input. With this functionality, you can easily create highly relevant content precisely tailored to your business needs.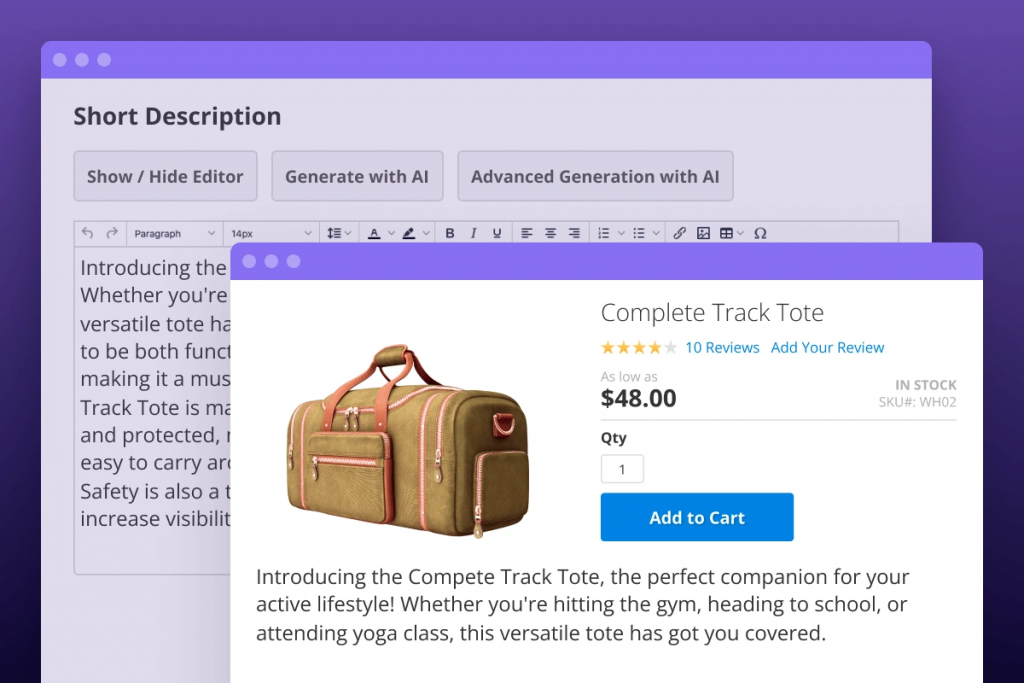 Generate content for the product | Source: Amasty
Create descriptions for category pages
Enrich your category pages with captivating descriptions using the innovative ChatGPT AI Content Generator. With just a few clicks, you can craft comprehensive descriptions for any category page. Simply begin editing the content within the Page Builder interface and you will encounter two dedicated buttons, enabling you to generate descriptions based on the category name or tailored to your specific requirements.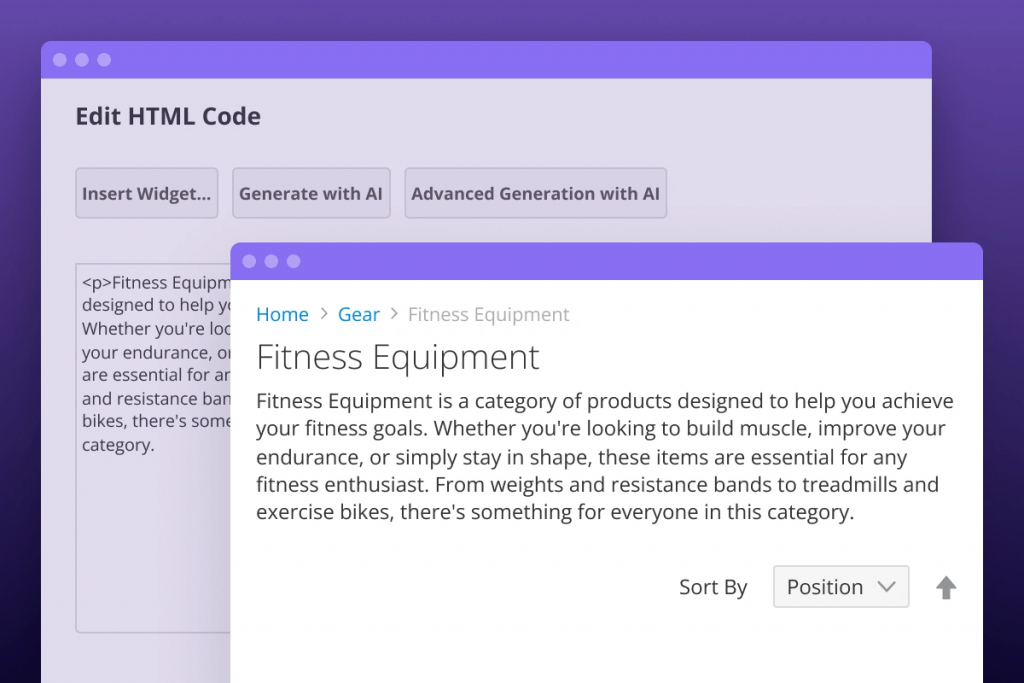 Editing HTML code/ Source: Magento
When it comes to the Women's shoe category name, set the demand for Chat GPT to generate a stylish description for a shoe store category page, based on the category name "Women's Shoes." The following output will be:
Women's Shoes: Step out in style
Your shoes are one of the first things people notice about you, so it's important to make a good impression. With the right pair of shoes, you can elevate any outfit and feel confident all day long.
At Women's Shoes, we have a wide selection of women's shoes to choose from, for every occasion and every style. Whether you're looking for a new pair of heels, boots, or flats, we're sure to have the perfect pair for you.
Auto-add metadata to your store pages
Streamline your search engine optimization (SEO) efforts by automatically adding meta titles, meta descriptions, and meta keywords to your product, category, and CMS pages. This time-saving automation ensures that your pages contain optimized meta tags without requiring any manual effort on your part.

This time-saving automation ensures that your pages contain optimized meta tags without requiring any manual effort on your part.
Follow these tips to generate meta tags:
Step 1: Provide Chat GPT with a prompt
Step 2: Specify the type of meta tag: Let Chat GPT know what type of meta tag you want it to generate.. For instance, you could say "Provide a title tag for a page about cat food" or "Create a meta description for a product listing page for a pair of running shoes."
Step 3: Provide additional details (optional): If you have any additional information that you think might be helpful for Chat GPT to generate accurate meta tags, provide it in the prompt or as a separate instruction.
Step 4: Generate the meta tags: Once you've provided Chat GPT with all the necessary information, ask it to create the meta tags.
Step 5: Review and refine the meta tags: Chat GPT will provide you with the meta tags. Review them carefully to ensure they are accurate, relevant, and optimized for search engines. Make any necessary revisions or adjustments based on your own expertise and judgment.
Auto-add meta description, keywords, meta title,… | Source: Amasty
Produce content for Blog posts
The extension is fully compatible with Amasty Blog Pro, meaning that with both extensions installed, you can automatically generate content for posts, thus saving time and ensuring. Chat GPT AI identifies customer metrics by analyzing website traffic, tracking email engagement, monitoring social media activity, analyzing customer support tickets, and tracking customer purchases. ChatGPT's keyword identification process encompasses the analysis of blog content, extraction of keywords from meta tags, examination of search engine data, suggestion of related keywords, and recognition of trending keywords. This capability enables ChatGPT to identify trending keywords relevant to a blog's niche, which can prove valuable in attracting a wider readership.
What to expect for the future of AI in e-commerce
AI tools for e-commerce are becoming increasingly sophisticated, capable of performing advanced tasks such as creating business plans based on data provided by users and making important business decisions. AI is also being used to enhance creative tasks such as painting and photography.
These advancements in AI tools indicate a trajectory towards pushing the boundaries of what is possible, further enhancing their ability to boost e-commerce success. It's important to note that the field of AI is rapidly evolving, with new technologies and updates constantly on the horizon. With this ongoing progress, AI will enable online stores to deliver better results, provide seamless customer experiences, and optimize various aspects of business operations.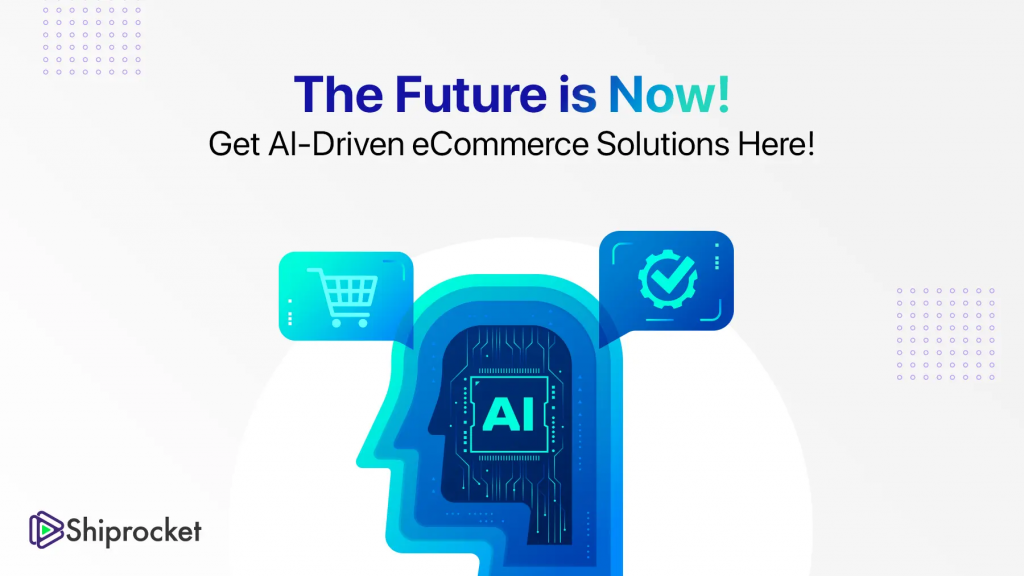 The promising future with AI tools / Source: Shiprocket
In conclusion, leveraging AI tools for e-commerce can have the power to revolutionize your merchant easily, and improve productivity. The good news is that these innovative tools are not only powerful but also user-friendly, making them accessible to businesses of all sizes. Are you having a hard time converting your website traffic into sales? Get in touch with us for more assistance!