With the remarkable growth of eCommerce, there have been various tools for brands and merchants to expedite online sales and stay competitive in the face of a massively increasing industry. And Shopify is one of the most popular systems for eCommerce enterprises.
Shopify is increasingly gaining more popularity, with merchants distributed over 175 countries. It had one million active users globally in October 2019, and more than 1 billion orders have been processed on Shopify. The platform can enable more eCommerce enterprises, from all nooks and crannies globally, to access a broader target audience thanks to advanced technology supporting end-to-end eCommerce needs.
Easy To Use and Get Started
Developing a Shopify shop is straightforward, and you can start and run your business within hours of registering an account. Whether you design the store from scratch or use one of Shopify's pre-made themes, it is easy and does not take much of your time.
As a complete and simple-to-use platform for companies looking to grow their services online, Shopify includes everything you need to sell effectively online. For instance, you do not need to worry about website hosting and technical knowledge. While technical knowledge certainly improves your options for customizing your shop, they are not required to start.
All you need to create your online store include:
A subscription and account
Preferably a custom Domain (technically not required)
Products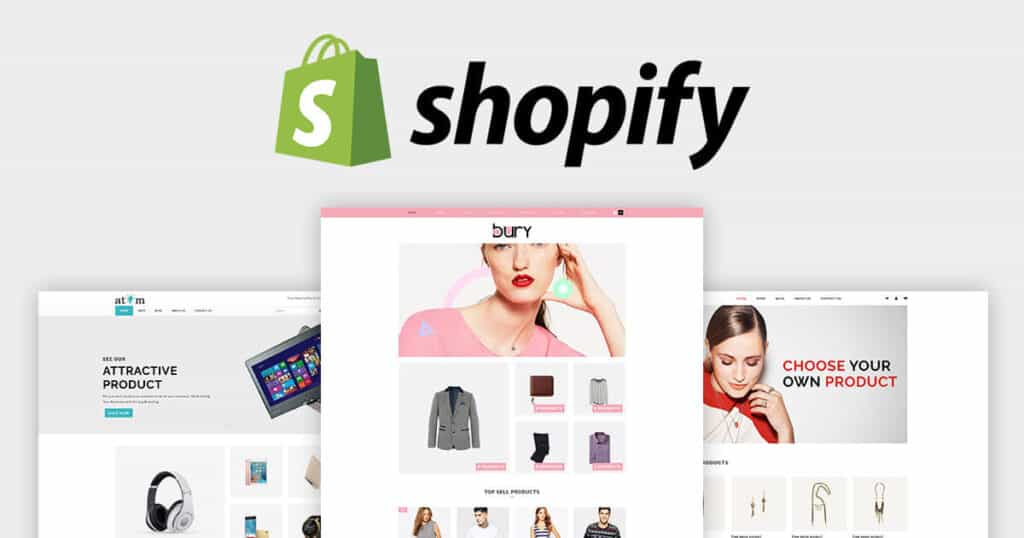 A Solution To Simplify Your Sales
Shopify platform integrates with in-store points of sale (POS), leading to a commerce solution that centralizes all sales data in a single database. When a firm expands, simplifying sales is critical, and issues related to inventory management become more challenging to handle. Consumers wishing to extend the functionality of their website will find it convenient to use Shopify apps, developed to simplify areas such as social media marketing and testimonial collection.
Moreover, establishing or migrating to Shopify represents a significant potential for independent, smaller businesses. While brick-and-mortar retail is location-based, the Shopify store enables any merchant to expand their market reach, transforming a local enterprise into a national or worldwide operation. This is critical for shops that cater to a specific niche or specialize in a unique kind of product.
Tools To Boost Customer Engagement
Having a lovely online store is all worthwhile, but you'll quickly be forced to close your virtual shop if no one comes. Shopify's primary selling point is its robust Search Engine Optimization (SEO) capabilities, which can help your website rank higher in search results and increase the chance of potential clients visiting your website.
Specifically, Shopify POS's customer-facing solutions offer some very remarkable features. Businesses can enable their customers to place orders straight from the screen. Then, customers can receive receipts sent to them or join up for incentives by supplying their contact information; this helps businesses expand their customer base.
Keeping consumers connected requires you to pay attention to social media, email, and online marketing, all of which are featured in Shopify's dashboard. Shopify also allows you to promote your new business using Facebook and Google Ads. After linking marketing channels with Shopify through the marketing overview page, you can instantly check the outcomes of your marketing campaigns.
Shopify Marketplace: The Shop App
It's clear from the start that Shopify is designed for everyone, which means that hyper-intuitive navigation and super simple administration are some unique selling points. Shopify's inventive Shop app, which allows you to accomplish almost everything from your phone, is among the features that attract millions of Shopify users.
Users can subscribe to their favorite businesses, access shipment times and costs information, and monitor prior purchases. The shop app connects independent sellers as a marketplace, offering customers an alternative to Amazon, eBay, and department shops.
In addition, the Shop app delivers information about local selling opportunities, which is ideal for companies that have a solid connection to their community and want to interact with local buyers. The app's support for local retailers is also an outstanding function, helping customers benefit from flexible delivery choices and a specific local shopping feature.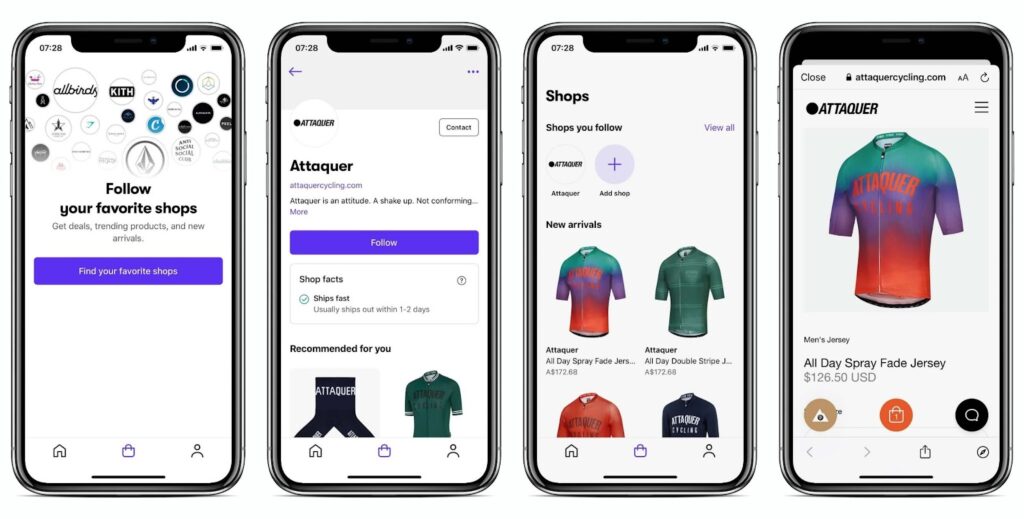 Customer Insights For Growth
One of the features of Shopify that allows you to succeed is that it facilitates growth. When evaluating an e-commerce solution, businesses should consider the platform's data collection and analysis capabilities. Because not everyone is a data specialist, a platform like Shopify that displays statistics on sales, shipping, and customers allows online store owners to get a panoramic view of their current performance to develop a better optimization plan.
These data insights can propel the business' development in the first stages of setting up an e-commerce store. Depending on the version of Shopify to which users subscribe, reporting on the acquisition, inventory, shopper behavior, marketing, sales, and customers may be obtained. The data helps online shops devise better strategies to attract more potential customers.
Shopify Plus For Enterprise
Shopify Plus provides more personalization, automation, and control for enterprise-level organizations. In addition, it offers a headless commerce strategy, connecting all of your front-end apps to a centralized backend.
In the traditional coupled approach, updates and changes must be made across both the front and back ends, which is relatively time-consuming. Shopify Plus provides a single back end that significantly reduces the time required to modify and update each storefront using headless commerce. This is a significant advantage as e-commerce innovation accelerates and the number of shopping options expands across smartphones, laptops, and smart devices.
Shopify Plus places a premium on the shopper experience. Companies can create impressive digital experiences by providing 3D product pages and augmented reality software. This enhanced shopping experience has a knock-on impact, increasing product page conversion rates by 18%. Similarly, companies can develop a customized checkout process that includes specific pricing and delivery options. Automation is another possibility, with bespoke processes integrated through Shopify Flow, Scripts, and Launchpad. Shopify Flow is especially beneficial as an add-on service because it saves time on daily administration tasks, namely monitoring low inventory goods, identifying and tracking consumers, reacting to bad reviews and customer complaints, and administering loyalty programs.
Frequently Asked Questions
Is Shopify the best e-commerce platform?
Shopify is one of the most well-regarded e-commerce platforms available today. It has all the necessary built-in features for users to create their own customizable, scalable online store. Store owners may sell their items directly on their websites and through various marketplaces and social media platforms.
How does the Shopify platform work?
Shopify is a cloud-based software as a service (SAAS) solution for online commerce. A monthly charge offers access to the admin panel, which allows for the entry of shop data such as product additions and order processing. Additionally, you'll gain access to a robust variety of free and premium custom templates and styling options to get started fast.
Is it safe to purchase from Shopify?
Although no intrusion into the realm of e-commerce will ever ultimately save your website from the most cunning hackers, Shopify is a secure platform. With Transport Layer Security (TLS) in all subscription plans, enhanced protections against fraudulent logins, the top level of PCI compliance, and comprehensive tools to prevent client data breaches, it's safe and secure for shop owners and consumers to transact on Shopify.
Is Shopify appropriate for large businesses?
Since its launch in 2004, Shopify has become the world's top-rated e-commerce platform. It provides solutions to start-ups and business enterprises of varying sizes to ease the process of running an online store of any size. Many renowned brands have trusted Shopify stores to sell their products online, such as Budweiser, Bulletproof, Sunday Somewhere, Leesa Mattress, and Penguin Books, to name but a few.
What are the main features of Shopify Plus?
Shopify is not restricted to small and medium-sized organizations. With Shopify Plus, enterprise-level and fast-growing businesses can quickly and affordably construct a fully hosted SaaS platform. The Shopify Plus platform enables enterprise-level businesses to create successful solutions to increase sales and potential customers thanks to these features:
99.99% uptime
Unlimited bandwidth
Unlimited transactions
Up to 10,000 checkouts per minute
4 million hits per second
Level 1 PCI DSS compliant
40+ migration tools
Is Shopify website mobile responsive?
Shopify has an extensive collection of responsive themes suitable for any layout or screen size. Regardless of the device, your customers use to access your site – tablet, smartphone, desktop, or laptop – your website displays flawlessly – precisely as it should.
Wrapping Up
With such incredible functions, Shopify is unquestionably one of the most fantastic options for developing an e-commerce website. Sellers can use this platform to create new online storefronts or move existing ones. If you're considering starting an e-commerce business, investing in Shopify development services is advisable. Contact our dedicated, experienced, and resourceful team, who will help you build an appealing and secure e-commerce store. Share your needs with us, and we will provide you with the optimal solution.