A. Cart Abandonment & its impacts on sales and revenues
Shopping cart abandonment occurs when customers add products to their shopping basket but depart your site without purchasing. Here is how to calculate it:
Cart abandonment rate = (total incomplete transactions/total carts created) x 100
For example, if you have 700 incomplete purchases from last week, but shoppers actually created 1,000 carts during that time:
(700/1000) x 100 = 70%
then your shopping cart abandonment rate is 70%.
To reduce cart abandonment, businesses need to understand how this issue impacts revenue and opportunities. Check out these two main consequences!
Leaving profits on the table
For most online businesses and retailers, the central worry linked to shopping cart abandonment lies in the significant revenue loss it entails.
Let's return to the figures from the previous case. Up to 700 of the 1.000 carts produced each week are incomplete purchases, which equates to a 70% cart abandonment rate. If the average order value (AOV) of each cart is $250, you're making $75.000 each week from successful sales. You are, however, losing $175.000 a week due to abandoned carts, resulting in $9,1 million in revenue lost every year. This is enormous, lots of money is left on the table—far more than you've made.
Losing opportunities to establish communities and form relationships with customers
A positive online shopping experience is pivotal in helping companies cultivate strong reputations, attract a larger customer base, and establish lasting brand loyalty. When shoppers opt not to make a purchase, they miss the opportunity to share their enthusiasm for the brand, their excellent experiences, the inspiration they derived from exploring the inventory, or the newfound favorite items they've acquired. While these effects may not be as immediately noticeable as revenue loss, they hold significant importance. Cart abandoners do not transform into brand advocates or recommend your brand to their friends. In the broader context, cart abandonment undermines your endeavors to create a sense of community and enhance brand loyalty.
B. What are the reasons that cause cart abandonment?
The average cart abandonment rate is somewhere less than 70%. Statista research also shows that when UK customers abandon carts, fewer than a third return to buy the things they left. Nonetheless, a fifth of them purchase identical goods from a competitor.
A variety of factors contribute to cart abandonment in the realm of online shopping, as found by the latest Baymard Institutes research. Among the top concerns, 48% of customers expressed dissatisfaction with the inclusion of excessive additional costs such as high shipping fees and taxes, which can deter potential buyers. A significant proportion, comprising 24% of respondents, was discouraged from completing their purchase when websites insisted on customer registration. Trust is a pivotal issue, with 18% of customers expressing reservations about providing their credit card information to certain sites. Furthermore, the complexity and length of the checkout process led to abandonment for 17% of shoppers, while 16% cited a lack of visibility in calculating the total order cost upfront as a deterrent. Technical issues, including website errors and crashes, affected 13% of customers. These findings underscore the multifaceted nature of cart abandonment, emphasizing the need for businesses to address these issues to enhance the online shopping experience and boost conversion rates.
C. How to Reduce Cart Abandonment
Understanding the repercussions of cart abandonment, it is time to address and reduce it promptly. Here are nine ways to fix the issue – pick one or more solutions for your business before it's too late.
Improve your mobile checkout experience
Approximately 292 million individuals in the United States are projected to possess their own mobile devices by 2024, as per Statista, in which mobile devices exhibit the highest shopping cart abandonment rate, at 85.65%, surpassing tablets at 80.74%, and desktops at 69.75%. Given that mobile shoppers constitute the majority of eCommerce customers and account for the highest cart abandonment rates, enhancing the mobile shopping experience holds substantial importance.
To enhance the user experience and reduce obstacles, focus on optimizing the appearance and functionality of the checkout process on smaller mobile screens. Keep in mind that simplicity and speed are crucial. Here are some vital questions to address:
Do you necessitate shoppers to interact with and complete multiple small fields on each checkout page?
Are there too many checkout pages, causing slow loading time in between?
Can shoppers easily view and modify their shopping carts during the process, or do they have to navigate back to make changes?
Is relevant information presented clearly? For instance, are costs, promotions, return policies, and estimated delivery dates prominently displayed?
Provide guest checkout options
Make it optional for the customers when it comes to creating an account. This shortens the checkout process by eliminating extra steps, while still enabling individuals who prefer not to provide personal information to complete a transaction with confidence.
Customers using guest checkout do not need to store their credit card information and their email address which are only used for delivery updates.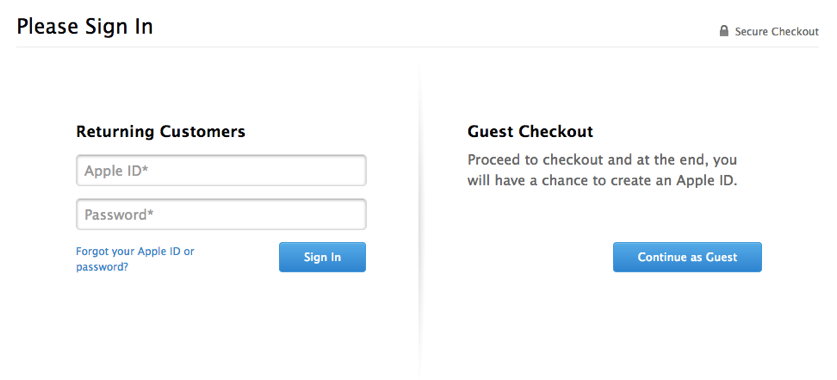 3. Use live chat for timely customer support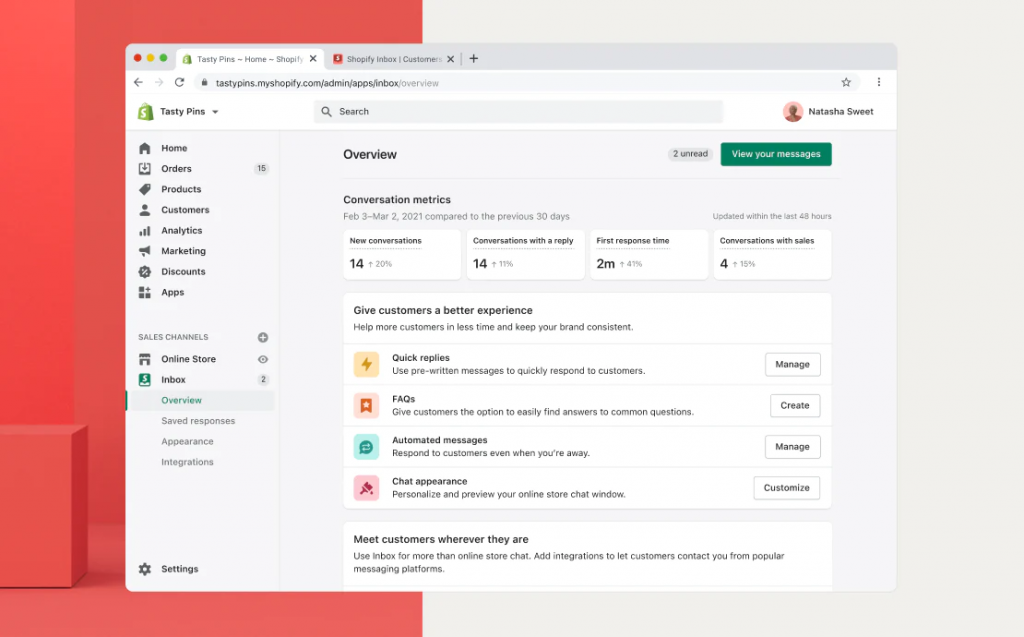 Another strategy to decrease Shopify cart abandonment is to use live chat. Live chat may be used to assist consumers with orders and give customer service. For example, an agent may answer consumers' inquiries regarding the product, making them less inclined to abandon it.
Shopify Inbox is a free messaging app that allows you to interact with consumers as they buy. Conversations may be managed via the online shop chat, the Shop app, Instagram, and Messenger. In fact, 70% of all Shopify Inbox discussions include customers who have decided to make a transaction.
While chatting, you may modify each message based on real-time customer data such as products seen, items in their basket, and previous orders. You can even make product recommendations and offer discounts without leaving the conversation.
4. Offer many payment options
Letting the customers choose their favorite payment method will reduce the need to fill in unnecessary billing information, especially when they place an order from a new store. Conduct a quick survey to determine which payment methods your clients prefer and provide the appropriate integrations.
Consider the nations where your business is situated and where your clients live when selecting a payment provider. Shopify's list of payment gateways by nation might help you figure out which ones are accessible in your target country and which currencies they accept.

5. Show Unsophisticated Calls to Action
After customers add products to their carts, ensure that the subsequent steps are transparent. Firstly, clearly indicate that they have successfully added items to their cart. Some websites may be too subtle in conveying this information, yet being explicit is beneficial. For instance, Reebok employs a message that explicitly confirms the added products and provides the next steps for the shopper. The inclusion of a convenient shortcut to proceed directly to checkout enhances the user experience.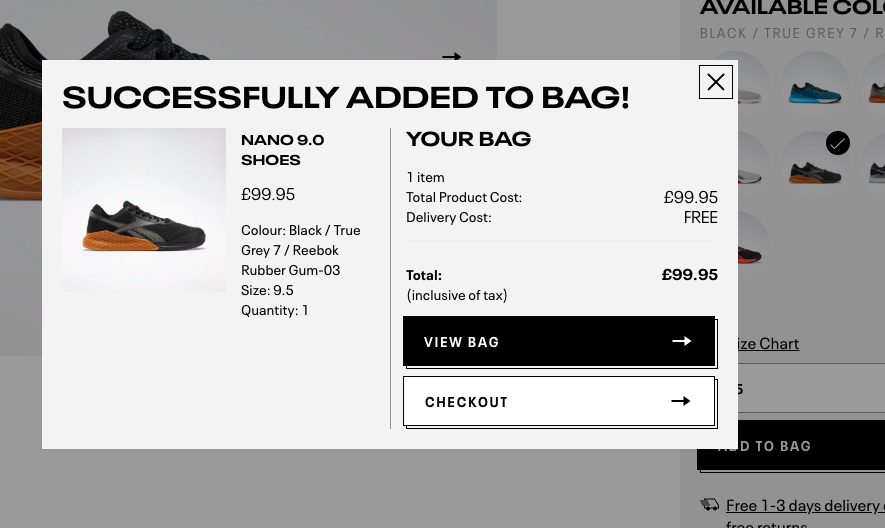 This is then followed up with a clear call to action (CTA) on the shopping cart page, which offers two checkout options, and is the most prominent link on the page.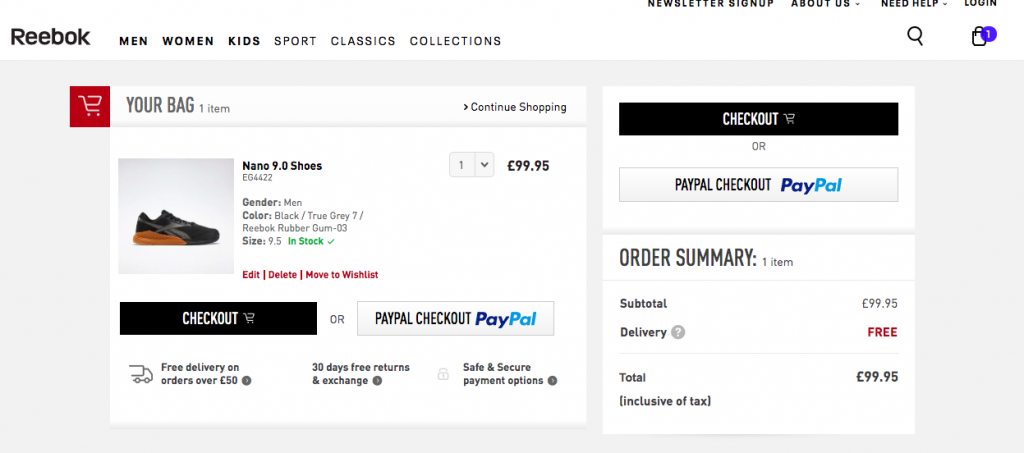 6. Offer to Preserve Contents of the Shopping Cart
Certain instances of cart abandonment might be transient. Individuals may need time for decision-making, face interruptions, or seek input from family or friends. In such scenarios, preserving cart details for future reference simplifies their return to finalize a purchase, eliminating the inconvenience of reselecting items and options.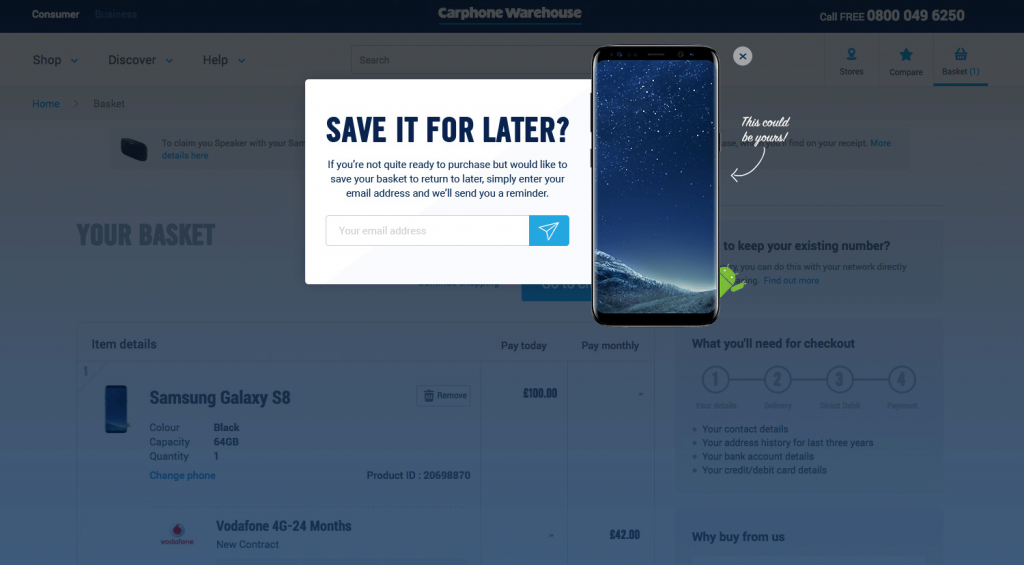 7. Run retargeting ads and follow up with abandoners
Implementing a comprehensive retargeting strategy is crucial for e-commerce stores, given the fact that the majority of visitors, approximately 94.8% as per Unbounce, don't make a purchase during their initial site visit. Specifically targeting individuals who have abandoned their carts through retargeting ads can be highly effective. These individuals are already advanced in the conversion funnel, and a well-tailored ad, perhaps offering a discount or free shipping, can incentivize them to return and complete their purchase. Studies suggest that retargeting ads have the potential to reduce cart abandonment by 6.5% and boost online sales by nearly 20%.
In addition to retargeting ads, following up with shoppers who abandon their carts is equally important. Whether it's due to product-related reservations or distractions, reaching out to these potential customers and reminding them of the products left behind can significantly increase the chances of them returning to complete the purchase. Emails, with an average open rate of 50% across all industries, also serve as an effective means of re-engaging cart abandoners. Fine jeweler Zales achieved remarkable success through dynamic content and similar item recommendations in their abandoned cart and price drop notification email campaigns, resulting in significantly increased click-through rates, conversion rates, and average order value.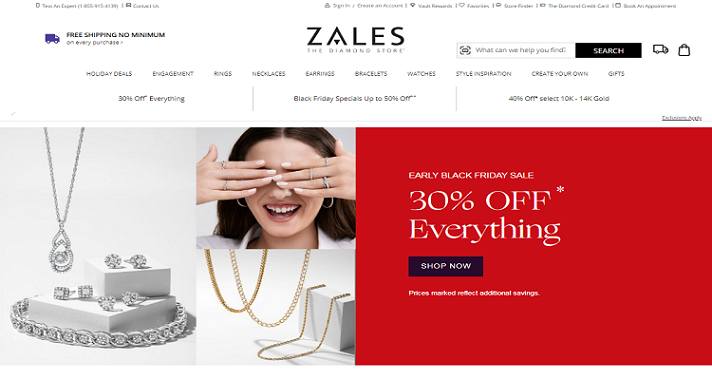 8. Be transparent about all costs
Refrain from catching your consumers off guard with unexpected taxes and levies at the checkout which makes them believe they have been tricked. Be forthright about any shipping, handling, or tax charges. This information should ideally be provided on the product page.
Fees, on the other hand, frequently rely on the user's geographical area or shipping address, so be sure to give current price information as soon as the buyer inputs their shipping address.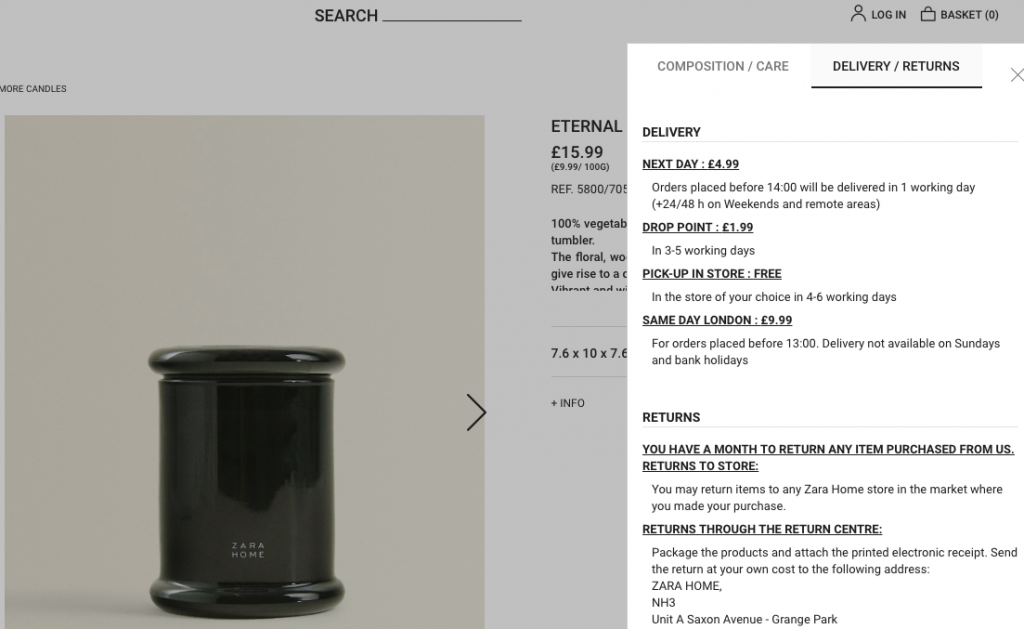 If you can't provide an exact amount for shipping expenses, offer a range ahead of time (e.g., $2.99-$3.99 for domestic delivery; $4.99-$10.99 for international shipping).
9. Offer Security Reassurances
Certain customers may have concerns about the security of their payments during the checkout process, so providing reassurance can be beneficial. Generally, a well-designed and user-friendly website, combined with established brand trust, goes a long way in reassuring customers. There are also additional methods to offer this reassurance. Some websites feature security trust marks from reputable brands such as Norton and Verisign, contributing to enhanced customer confidence, particularly for visitors unfamiliar with the brand.
D. Conclusion
By implementing these nine strategies, you can actively address the factors contributing to cart abandonment and create a more user-friendly, trustworthy, and conversion-driven online shopping experience. Stay proactive, continually analyze customer behavior, and adapt your approach to further reduce cart abandonment and drive e-commerce success.
For more updates and information about E-commerce, CLICK HERE!