Magento should be a top priority for organizations and individuals looking to build a long-term professional eCommerce site. According to internal statistics from LitExtension, Magento was one of the top platforms merchants migrated to the most in 2020, with a minority of shop owners opting for alternative carts.
Numerous Fortune 500 companies, like Samsung, Nike, Canon, and Ford, picked Magento as the premier e-commerce platform to build their websites due to its robust features, variety, and flexibility. Additionally, there are several reasons organizations choose Magento and prove that it deserves their final decisions.
Table of Contents
What is Magento?
Magento is a platform with built-in PHP and was released on March 31, 2008, by Varien and developed on Zend Framework. With Magneto, customers can maintain complete control over their online store's appearance, operation, and content without sacrificing the customer experience. Additionally, it provides essential tools and services to its customers. This covers marketing, SEO, and catalog-management tools.
In general, the platform is adaptable to any size shop. Whether you serve a few hundred or a million customers, Magento provides a free Magento Open Source and a feature-rich Magento Commerce with a range of plug-ins and themes, ensuring that the platform can scale and progress along with your company. Frequently, when a firm grows, it is necessary to switch platforms.
Why Choose Magento For Your Business?
What factors influenced these well-known worldwide firms' decision to use Magento to service millions of clients? And why should you opt for Magento over hundreds of other platforms? Below are the most compelling reasons why Magento is a fantastic platform for building an e-commerce store and making your business succeed in the virtual space.
Highly customizable platform
Magento enables developers and users to easily edit, alter, and extend the source code to optimize default features or add more functionalities. And if you are not tech-savvy, there's no need to worry. The platform is fully adaptable, so you can install extensions to enhance the consumer experience and meet your specific requirements without interfering with the source code.
In comparison to Shopify, Magento Community Edition is completely free to download and configure, but Shopify charges a monthly subscription for other editions. In contrast to Woocommerce, a WordPress plugin restricting shop owners' ability to do more and may need further extensions, Magento is an entirely autonomous platform.
Various useful features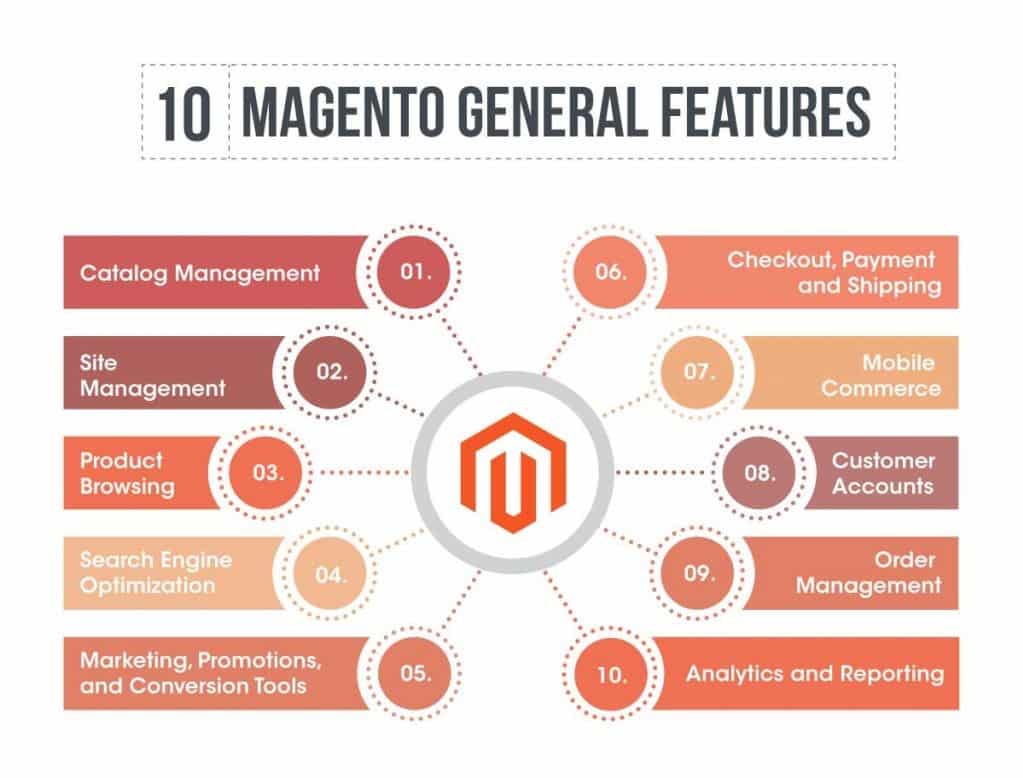 Do you know that the phrase "Magento" is more often searched on Google than the term "eCommerce"? This fact alone demonstrates Magento's immense popularity. And the reason for this popularity is the incredible features the Magento eCommerce platform offers.
In contrast to other e-commerce platforms, Magento has many tools that assist shop owners in managing their whole store, from product development to checkout experience, promotions, and marketing.
Thanks to Magento's outstanding features, you can set up a well-organized and complete virtual shop by providing all the necessary tools to run it from start to end. Magento also allows businesses to freely employ Magento features for increased business efficiency and shop administration.
Various useful features
High security
Security should be your first concern if you're about to pick an e-commerce platform to build your e-commerce store. When it comes to Magento, safety is always ensured at the top level, which means that your websites will remain completely secure the whole time. So, what makes Magento the best secure e-commerce platform?
Specifically, Magento provides a security center to give users up-to-date information on security, security updates, security patches, best practices, and immediate assistance during a security breach. Additionally, Magento provides users with necessary security components such as Payment Card Industry Data Security Standard (PCI) compliance or a Secure Sockets Layer (SSL) certificate.
In addition, Magento is less susceptible to hacking than other systems such as WordPress or Woocommerce. WordPress is the most attacked platform with several vulnerabilities, while Magento has fewer possibilities to be hacked. Justifiably, Magento comes with various built-in functionalities, which reduces the need to install other extensions and comprehensively protects your websites from internet assaults and hackers.
High performance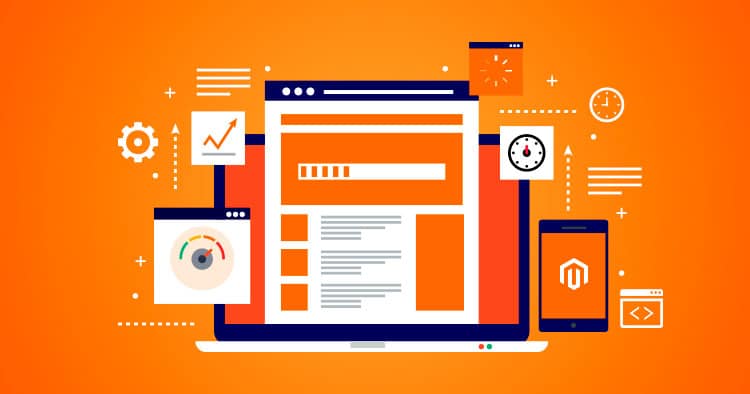 According to a study conducted by Aheadworks on Ecommerce Platforms Comparative Speed Testing, Magento and Shopify are the two best e-commerce platforms. They have the most optimal performance, and the quickest mobile sites are created on Magento and Prestashop.
Magento has made it a goal to create the world's quickest e-commerce stores, and it is also well-known for its ability to provide a fast-loading web page. Fast page loading combined with efficient query processing results in a website that performs better than before, encourages users to explore items on the web page, reduces page abandonment, and increases the conversion rate.
It is undoubtedly apparent that slow-loading websites "sink" quickly. In many circumstances, the loss caused by a sluggish loading website might result in unforeseen consequences. With the Magento platform, you may be astounded by its high performance, its capacity to be customized, and the trust it brings. Magento's open-source nature allows shop owners to customize the site's performance in various ways, from modifying the source code to using third-party tools.
Mobile responsiveness
Magento is proactive in keeping up with the mobile era, as it is now, by delivering an eCommerce platform with a high level of mobile-friendliness. Magento-powered websites are responsive on the desktop, mobile, and other devices such as tablets and notebooks. Magento's free community and business edition provide an HTML5 framework that optimizes the mobile shopping experience.
Magento mobile app will provide a satisfying brand experience for customers who visit your shops anytime and anywhere through their mobile devices. Customers can simply shop or browse all Magento websites on mobile devices without encountering display or purchase difficulties.
SEO friendly features
Another fantastic feature demonstrating that Magento is the right platform for your website is search engine optimization (SEO). Magento features sufficient SEO components to help them rank higher in search engine results pages (SERPs), such as sitemaps (HTML and XML), URL rewrites, and metadata. Magento also provides analytics, which allows for the monitoring of website visits. This analytics is one of Magento's most significant features.
According to research that evaluates and rates SEO capabilities across e-commerce platforms, Magento outperforms the competition with the highest ratings and ranks #1. Shopify and Woocommerce are also in the second and third positions, respectively.
Diverse extensions
While Magento enables customers to customize the source code to meet specific business needs, Magento extensions demonstrate the necessary components of a complete and ideal website. Store owners may add whatever Magento module they like on their websites, as long as the extensions help them and their business.
Magento Marketplace, or Magento's official shop, hosts many Magento extensions produced by vendors and Magento's partners. These extensions apply to many aspects of your business, from marketing through checkout, inventory management, and order administration.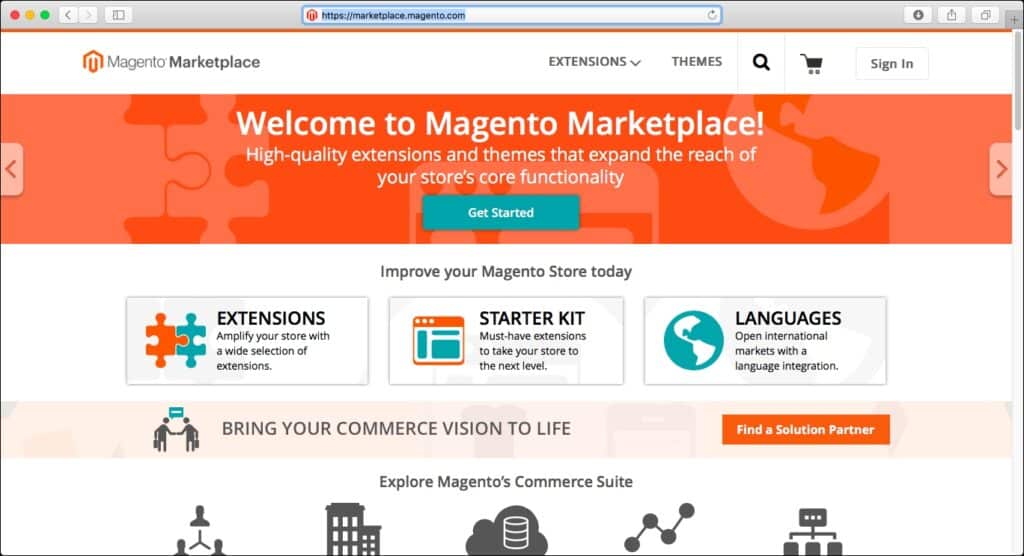 Third-party tools
Apart from extensions designed by Magento's specifications, third-party integration tools are frequently installed by online store owners to ensure a more effective website.
Magento has developed the most fantastic system for quickly integrating many third-party tools into the website, including built-in Google tools (Google Analytics or Google Checkout), payment methods (Paypal, Braintree), the database application, and shipment tracking.
You can configure some third-party applications directly from the website's backend, and Magento even offers step-by-step instructions for settings. You only need to identify the most appropriate devices and immediately "insert" them into your virtual shop!
Wrapping up
If you're seeking an online store optimized to work with many products, a high volume of traffic, and a considerable number of sales, Magento is among the excellent choices. It is particularly suitable for mid-sized and large enterprises with an established model, the resources to support it, and the time to shape and sculpt Magento to meet your needs. And now, you can contact our dedicated, resourceful, and skilled team, who will help you build an appealing and secure e-commerce store. Share your needs with us, and we will provide you with the optimal solution for your business.