There is no doubt that both BigCommerce and Shopify are among the best options within the eCommerce pack. As e-commerce site builders and online store managers, they are fantastic in their own right, with some tailored features for specific users and scenarios that may put you in a dilemma to select the right one.
That's why we conducted extensive research on both platforms to help you make an informed decision. This post will look into BigCommerce vs. Shopify's designs, sales features, pricing plans, and everything anyone looking to launch an eCommerce store loves to know.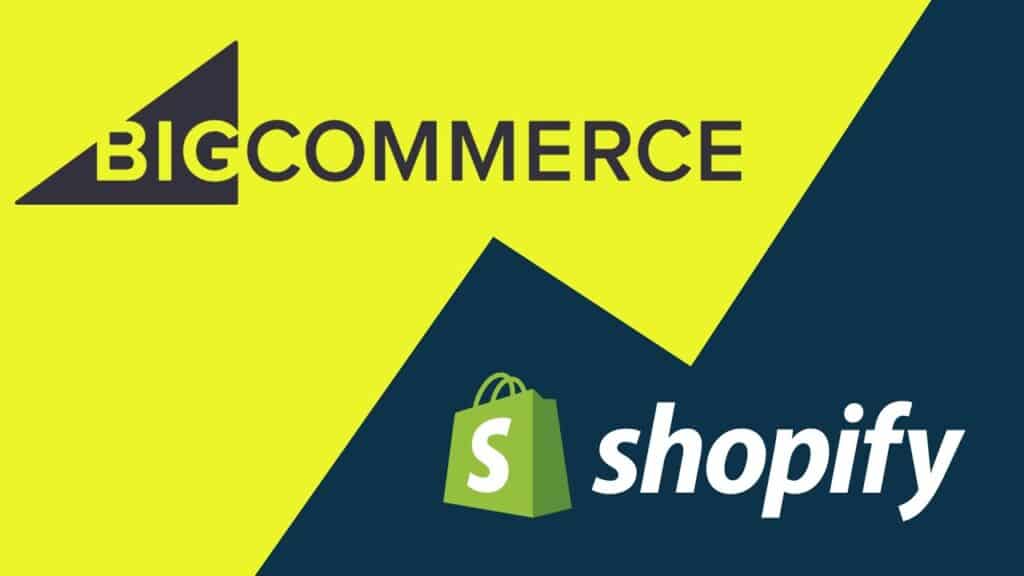 Table of Contents
BigCommerce vs. Shopify Overview
Established in 2009 in Sydney, Australia, BigCommerce has witnessed steady growth with thousands of retailers since then. The company keeps adding big names to its list of users, such as Gilette, Ben and Jerry's Ice Cream, and Toyota, to name but a few. It also expands its offices to Texas, Austin, and San Francisco to support its rapid growth.
As a hosted e-commerce platform, BigCommerce enables you to run a virtual shop by providing you with all the necessary tools for you. The company claims that users can set up their online store within a few minutes and start selling. Thanks to the drag-and-drop feature and a wide range of built-in templates, this is done with great use.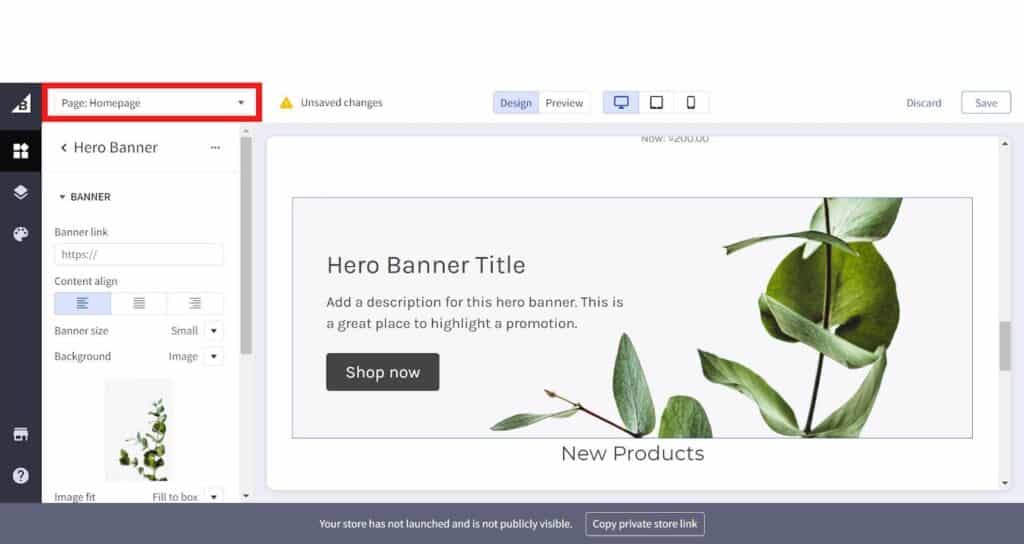 Comparing Shopify vs. BigCommerce, you can see some of their similarities. Like BigCommerce, Shopify is also a SaaS platform and hosts the servers. But what sets Shopify apart is the whopping number of users worldwide. Established in 2009 in Canada, Shopify currently supports more than 1,000,000 businesses globally. This powerhouse boasts several leading corporations as platform users, including Staples, Heinz, Rothy's, and Allbirds.
Like BigCommerce, Shopify is entirely a cloud-based and hosted platform, which means users can access it anywhere. In addition, it allows you to handle software and server upgrades and maintenance with all essential business tools. Users can access and integrate other business tools they need to make Shopify work for their stores.
Shopify vs. BigCommerce Design
Free themes
Shopify and BigCommerce provide a limited number of free themes – 9 from Shopify and 12 from BigCommerce. Because Shopify is more user-friendly than BigCommerce, even novices can set up an appealing online shop.
However, Shopify's free themes are less uniform for you to start with, so you won't need to alter as much. In any case, both platforms will help you succeed in a world where 38% of users would abandon a website due to unappealing content or design!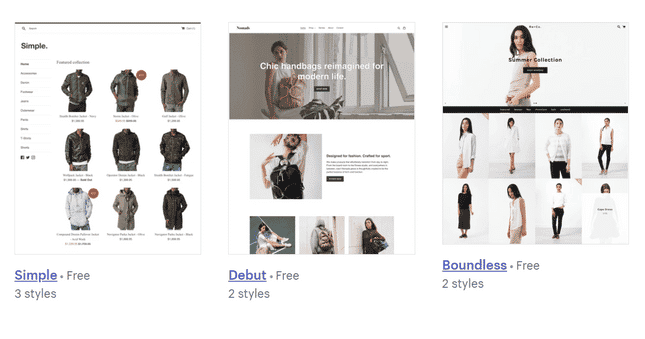 Premium themes
Shopify provides over 70 premium themes, with prices ranging from $100 to $180 for a one-time purchase. Particular themes are offered for every industry, ranging from the food and beverage industry to the home and garden.
Most themes come with two or three distinct color and style options to pick from, while some other themes come with more. Not only that, Shopify's themes are simple to customize even more, and you may swap between themes anytime you want.
BigCommerce provides over 150 premium themes for a one-time fee of $150 to $300. Users can select the suitable theme for their businesses by browsing by industry, catalog size (number of products), style (layout), and other criteria. Each theme, similar to Shopify, is available in various color palettes.
Although BigCommerce indeed has more than twice the number of themes available as Shopify, it should be noted that some of BigCommerce's themes are just subtle variants of the same "family". For example, templates 'Chelsea Bold', 'Chelsea Bright', 'Chelsea Warm' and 'Chelsea Clean' are labeled as four independent ones, although they are all variants of the same Chelsea template family. As a result, BigCommerce and Shopify generally provide the same number of templates.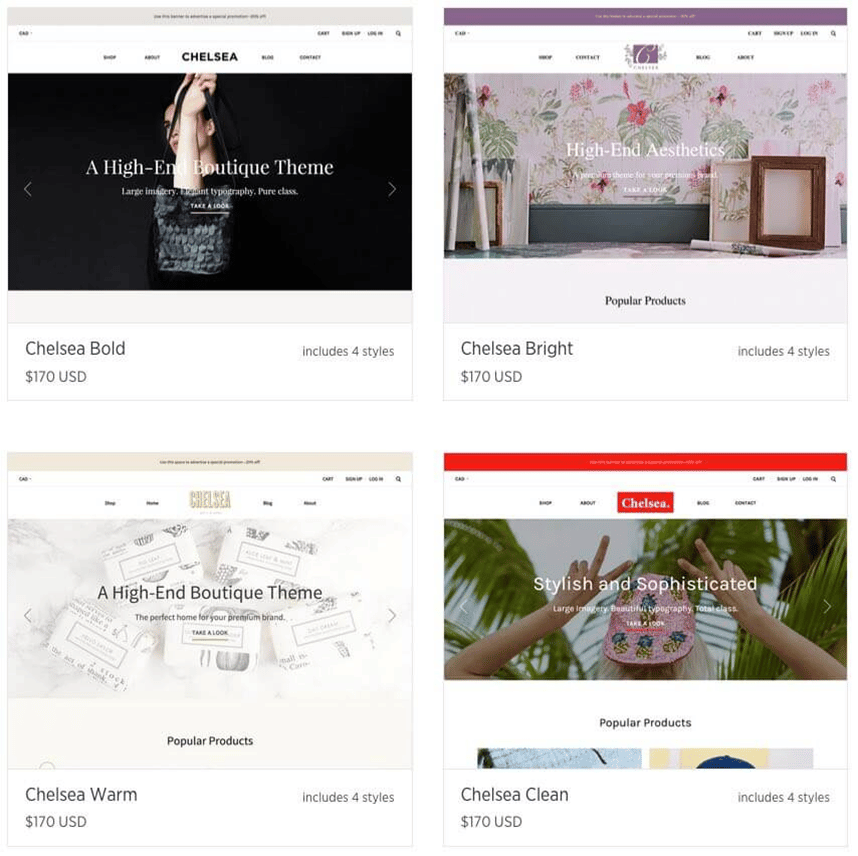 Shopify vs. BigCommerce Sales Features
First things first – both BigCommerce and Shopify come with some essential functionalities as below:
The most basic shipping tools: setting up shipment destinations, modifying shipping charges depending on weight or order value, and printing your mailing labels.
The SSL certificate: SSL, which stands for Secure Sockets Layer, is what secures your shop while also validating it as a secure place for online payments.
The multichannel selling feature: Users can boost their sales on numerous channels such as Facebook, Instagram, and Pinterest via multichannel selling.
What sets two big e-commerce platforms, BigCommerce and Shopify apart despite these shared features?
BigCommerce: best for built-in sales features
BigCommerce stands out with a significant number of built-in sales tools. Despite having a smaller app store than Shopify, BigCommerce saves you from the hassle of installing a large number of applications to add functionality to your online store. BigCommerce also provides some essential services that Shopify does not provide by default and require a separate purchase, such as ratings and reviews, real-time shipping estimates from third-party carriers, and unlimited staff accounts.
In addition, although other functions are incorporated into both BigCommerce and Shopify, BigCommerce's features are more sophisticated. That is, both platforms allow you to sell a product in a variety of colors and sizes in addition to the standard version. However, while Shopify only gives 100 variants per product based on three parameters (size, color, and material), BigCommerce provides 600 variations for each product.
Shopify: best for customizable sales features
To have a similar number of features as provided by BigCommerce, you have to make extensive use of Shopify's app store. Shopify's app store is significantly larger than BigCommerce's, which means that you can access many useful tools, and be much more selective about which tools to include on your website, whether it's personalized appointment booking forms or curbside pickup options.
Just bear in mind that while some of these plugins are free, most of them charge an additional price not included in the monthly cost of a Shopify account. Paid Shopify applications often cost up to several hundred dollars per month, and that huge price implies that there are best-fit apps available for any sort of eCommerce shop.
BigCommerce outperforms Shopify in terms of sales features because it has more built-in capabilities right off the bat. However, Shopify's sales tools are more customizable as it has a more robust app store. Both provide all of the necessary functionality for your online shop!
BigCommerce vs. Shopify Pricing Plans
When it comes to eCommerce website builders, one of the most important things to consider is the recurring monthly cost. That said, there are also other additional costs, such as credit card and transaction fees. We'll start with the monthly plan fees and discuss the extra costs associated with BigCommerce vs. Shopify.
Monthly pricing plans
BigCommerce and Shopify both provide users with three different price tiers. BigCommerce's plans start at $29.95 per month and increase up to $299.95 per month. Shopify's plans start at $29 per month and rise up to $299 per month. Both platforms offer up to 10% discounts when you choose yearly instead of monthly payments.
Shopify also provides a monthly Lite plan for $9, but this plan does not include an online shop. Rather than that, it enables you to integrate a Shopify button (similar to PayPal's "Buy Now" button) onto your current website to include a shopping cart.
So, returning to the online shop plans, let's break down these price plans:
| Builder | Basic Plan | Medium Plan | Advanced Plan |
| --- | --- | --- | --- |
| BigCommerce | $29.95 | $79.95 | $299.95 |
| Shopify | $29 | $79 | $299 |
Monthly pricing plans
On the surface, these pricing plans seem to be somewhat similar. However, this changes when extra costs such as transaction and credit card fees are included.
Transaction fees
Transaction fees are a percentage of income from each website builder's sale. You will be pleased to know that none of BigCommerce's plans include transaction fees. By contrast, Shopify charges from 0.5 to 2%, according to the price plan chosen. Shopify Payments is the only option to avoid Shopify's transaction fees (unlike such third-party payment processors as PayPal).
Credit card fees
Credit card fees are what you pay to the third-party payment processor with which you conduct your business and make sales. There are several payment processors out there – BigCommerce supports over 65 integrations, and Shopify supports over 100. You can make use of price discounts on many payment processors as suggested by Shopify or BigCommerce. While Shopify supports its in-house Shopify Payments service, BigCommerce promotes the popular PayPal service – both of which charge a fee of from 2.4% to 2.9% + 30¢ each transaction.
Both platforms provide a free trial period, with 15 days for BigCommerce and 14 days for Shopify. Additionally, it's reasonable to say that these platforms do not differ much in pricing plans – it's all about the tools and features you receive for your money.
BigCommerce vs. Shopify: Pros & Cons
While both platforms are excellent in their own right, significant distinctions make each platform better for particular scenarios and user categories. To assist you in making an informed choice, the following are the pros and cons of BigCommerce vs. Shopify.
| | Shopify | BigCommerce |
| --- | --- | --- |
| Advantages | Unique theme options mean less design work for users- Quality app store with thousands of necessary tools for customization options- Website management is user-friendly with Shopify's easy-to-navigate dashboard- Automatic navigation to the support pages; multiple help channels, social media support | An incredible number of built-in sales features, with no need for installation- Unlike Shopify, none of BigCommerce's plans include transaction fees- It is possible to accommodate up to 600 variations per product- Clear advantage given its support to payments in multiple currencies |
| Disadvantages | Additional transaction fees imposed if not using Shopify Payments- Only the Advanced Shopify plan allows third parties to charge for real-time shipping.- Switching templates means reformatting your website | Small learning curve is needed to get the hang of the built-in advanced features- Features options aren't so customizable as Shopify's- A bit limited variations between different store themes |
BigCommerce vs. Shopify: Pros & Cons
Shopify vs. BigCommerce: When to use
Whether BigCommerce or Shopify is a battle that might have a different winner depending on who judges it. In fact, they're both established rivals, which means that whatever one you select, you're sure to get stellar service. However, there are some significant differences, so let us quickly recap them.
When to use Shopify?
If you are a small firm that relies heavily on internet sales, Shopify is a superior option. Shopify's interface is beginner-friendly. It is packed with management and sales features (together with hundreds of third-party integrations) that enable you to expand your online business quickly.
The platform enables you to sell through social media platforms such as Facebook, Instagram, and TikTok. It also includes a point-of-sale (POS) system that integrates seamlessly with your online shop to enable omnichannel sales such as pickup in-store, browsing in-store, and buying online.
When to use BigCommerce?
BigCommerce is particularly suitable for high-revenue organizations looking to cut down on transaction costs. It enables you to choose your preferred payment platform without incurring additional transaction costs (unlike Shopify, which charges a fee if you use a third-party processor). This lets you browse around for the best deals. BigCommerce provides special PayPal discounts, integrates with over 55 payment providers, and supports numerous currencies.
If you have a large and sophisticated product inventory, BigCommerce is a better option for you than Shopify. While Shopify gives 100 variants per product based on three parameters (for example, size, color, and material), BigCommerce provides 600 variations for each product. As a result, BigCommerce stands out from most other eCommerce systems, including Shopify, in terms of the product variations supported.
BigCommerce vs. Shopify FAQs
Which platform should I select, BigCommerce or Shopify?
The primary advantages of BigCommerce over Shopify are that it does not charge transaction fees and comes with a more significant number of built-in eCommerce features. Shopify often requires third-party apps to gain the functionality you need. The primary reasons to choose Shopify over BigCommerce are its robust templates, no sales limitations, and all of its plans include an abandoned cart saving function (which BigCommerce does not provide unless you upgrade to a $79.95+ plan).
Do I need a developer to build a BigCommerce or Shopify store?
No. Both systems are "do-it-yourself" online store builders geared towards non-programmers. However, employing a developer may expedite the process of creating your online shop or adding custom features to it.
Which is suitable for a large store but not large enough for an enterprise plan?
We suggest BigCommerce's $299.95/month Pro plan for online merchants with substantial inventories when you are not yet ready to upgrade to an enterprise-level plan. You can still receive advanced product filters and enhanced security, but you won't be required to make a significant financial commitment.
Is there a BigCommerce plan comparable to Shopify's Lite plan?
While BigCommerce does not provide a plan as inexpensive as Shopify's $9 Lite plan, you may use any BigCommerce subscription to access comparable features (i.e., the ability to sell on social media or design equivalent "purchase buttons" for use on other websites).
What are the primary Shopify and BigCommerce alternatives?
Squarespace, Wix, and Jimdo are all similar "hosted" platforms. Self-hosted WordPress is also often used in combination with online commerce systems such as WooCommerce and Ecwid, although to do this efficiently requires support from developers.
Is it possible to obtain a discount on BigCommerce and Shopify?
Yes. With Shopify, if you sign up for a free trial and then pay in advance for one year of service, you save 10%; purchasing in advance for two years saves you 20%. BigCommerce provides a 10% discount on its Pro and Plus plans if you pay for one year of service in advance; you can also receive a month of free service from BigCommerce for a limited time if you sign up for a 15-day trial and then upgrade to a paid plan.